Perfoming for the first time in Cameroon tomorrow evening in Douala, nigerian singer,songwriter and performer Iyanya gave us an exclusive interview as we met him some few hours to his premier as he chilled out in this hotel. Invited by an international brewery , he promises to give the best of himself! We were able to have some exclusive revelations too



.......go read , go read!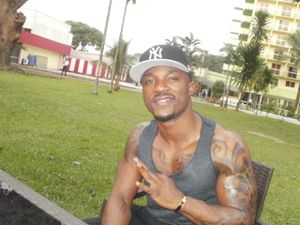 Welcome to Cameroon, your first time here?
Its my first time here and I love the vibes, it's feeling good already.
What's brings you to Cameroon ?
I am here to have a great celebration with Cameroonians at the Bonanjo party house, its Guinness black and gold party tomorrow, just get to ready to have a great experience, definitely.
If I say Kukere, I can see you are smiling, memory lane what do you reply, what comes to your mind and what does it mean?
" Kukere" means don't worry, just like saying #AkunaMatata! Each time kukere comes to my mind it reminds me of the breakthrough, because it's the song you know that really put me out there

, and since then I have been very very sucessful.
Are there any artist from Cameroon that you know?
Oh yeah I knowRichard Bona a big star , Petit Pays , and they just told me right now that the only artists performing with me tomorrow are X Maleya so I am looking forward to seeing them. I also look forward to working with Cameroonian artists, the fan base here is amazing, from the airport everyone was showing love so, I just can't wait to be part of the people.
2 albums already since 2008 : My story released in 2009 and Iyanya VsDesire released in 2013, are you following your dreams?
I will say yes and everything is on track, it's the perfect lane. I am just doing my best to keep achieving more and doing my best to be more successful and entertain the fans the more and I am thankful.
On what projects are you working on presently?
After the Iyanya vs Desire album, I'm dropping another album this year by God's grace , working and dropping more singles , more collaborations in Africa and internationally.
My foundation will be launched next month too.
Is it true or false women are your number one fans?
Hum yeah yeah to an extent! (smile and shy) because in every concert I have been all to, all over the world it's always women infront, and I am thankful for my female fans, and I feel like they have really put me on a map.
You have done a number of collaborations so far. What inspires that?
One thing about collabos is, the other people bring their style to your zone, and their creativity to your side, and then it just helps you achieve a lot. Collaboration helps you achieve more fans and these people have fans. I don't want to be an island in the industry, I don't want people to think I'm just me, I want people to see that I'm doing music not only for myself but for everybody! So I am saying "oh you like that guy?" ok Fine I 'm gonna do a song with him! You like Richard Bona, or Petit Pays , or X maleya .. ok am doing a song with him cause I want you to know that I need you to be part of me. That's the whole idea!
Has your life changed since MTN project fame?
Yes, of course. Back in the days I use to do a lot of ballads, before the project to be honest I used to beg to do shows and today…. I headline shows all over the world. I thank God for the grace the strength and passion. After the death of my loved ones, I never gave up. If you love what you are doing, you will against all odds push and keep getting it. I believe that even for the people you have lost you should represent, you should achieve so that wherever they are they should be proud of you, I don't think my brother or my parents where ever they are now, would be proud of me if I were some criminal in the street. I know they are praying for me right now and I keep working and believing that life must go on. Also looking from where I come from…. when you come from a place where everybody is totally underrated…..and you want to be different, I have always dared to be different!
Before I say " Imela" that"s the best word in Ibo sorry I can't speak Efik, what does " Le Kwa UKwu" mean? By the way I love the way you turn your waist….very heuh…..sexy I will say!!
(Laugh) You know when a woman passes and you are like oh she is amazing she is beautiful, that's the whole idea!
Do you have any message for your fans here in Cameroon?
Yep! I am sure you got your ticket already, it's gonna be amazing , it's my first time here so I don't have plans giving you guys less of me cause I want

to come back and come back and come back! So get your ticket and thank you for the love, I met some people at the airport today and they were taking pictures with me , so I feel really blessed , I feel I am already part of Cameroon, and tomorrow I will proove that! So just come out and have a great time!!!!!



I tried at the end to say thank you in Efik and it sounded like [sou song hoh]
Special greetings to the Nigerian community of Cameroon.
Enjoy your stay link