September 25th 9:50 am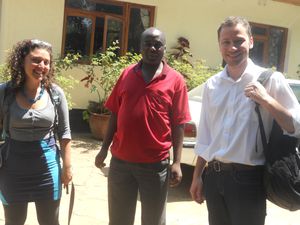 Martin Mwape meets me in the restaurant. He comes along with his laptop and I realize we are both using a HP Compaq. That is so cool because his charger has an adapter to fit in the socket!

Remember my laptop is more of a desktop! Think about it, I need another one

! As I get connected to talk to friends, family and colleagues, martin suggest we go over to Farm radio International head quarters and also try to seek ways to change the dollars in my possession into Tanzanian Shillings.
In the hotel where we are booked they, don't do exchange, so we went to Kampala hotel a few meters away, but unfortunately the person in charge was not in office at the time. There were many people at the hotel, Martin informed me that the guys for the African green revolution were booked here. We left the kampala hotel and strolls for about 15 minutes, time for me to observe the town and take pictures. I noticed there were not very much taxi but small white buses.



These buses known as 'cargo' in Cameroon have stripes of different colors depending on the direction you are going to. If you go on the left it is the black stripe, there are the blue and red stripe too. After 50 meters or so, we finally took a taxi that drove us to the headquarters in old radio street. The driver took us for 10 000 Tanzanian shillings about 7$ and about 3500 FCFA. On the way there, he took us to a street with more than a hundred houses for rent…all belonging to one person! The people living in that quarter are called pipief. The driver was a cool guy, he gave his number to Martin in case we needed a ride during forth coming days.

At FRI headquarters, I was delighted to meet Blythe, Nelly and Barth our facilitators, but also Jonathas, Maguy,Gizay and Isiah ( the financial man yeah!). We did discuss a lot and we all felt happy to meet ourselves. One good thing about the meeting was that Blythe, Nelly, Bart, Jonathas and myself spoke invariably in English and French.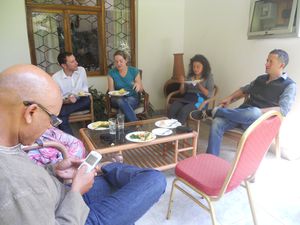 Took some pics along the way and posted them on FB! The hashtag #Barza2012 was changed to #barzaradio so as to follow our activities on Twitter!
Lunch was served : irish potatoes, macorroni,vegetables,meat,fish pineapple and avocado. Its always a good thing to know the food that is being served, so you can eat and feel at home. I brought some little gifts from Cameroon oh yeahhhhhhhhh!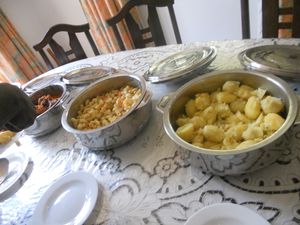 Some few minutes later after lunch we drove back to the hotel. I was asked to help out one of the participants Inou Maiga from Mali with some translation issues during the workshop. Bart also wished I could tweet on the workshop and I said yes.
Upon arrival at the hotel, we met Franklin who finally woke up, he was taking much with Koffi. Barth checked at the hotel to see that everything was going on well. Nelly presented Inou to me. Luca from FAO joined us , that made 9 new persons for the workshop. Meeshak joined us and we discussed for long and I could find time to send 2 tweets. Since I needed a sim card and Martin too, he helped me get one on his way to town with Franklin, Koffi and Barth. They were back an hour later or so and I could phone back in Cameroon with Airtel. We were made to understand that there is Vodacom and Tigo too as mobile operators. During their absence, I tried as much as possible to post pictures though the internet was rather slow. The wifi worked only in the waiting room and the veranda.
Later in the evening, I was happy to put the name ¨Petronillah to a beautiful face all the way from Kenya.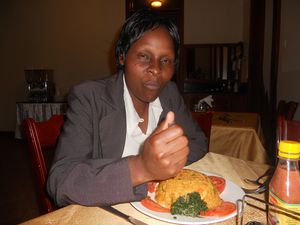 We had diner together and she taught me two new words…oh my! I have forgotten them!Hope she doesn't get to know.
When we separated some time after, I promised I was going to sleep early. Unfortunately the internet cable handed to me wasn't working, so I went back to the waiting and worked til pass midnight! The truth is I was ecpexting to meet Jean Olivier on line on facebook! Poor me! Who is he? You will get to know, just be patient! As I finish this note its exactly 41 mins pass midnight and I am yawning…tomorrow we are kicking with the workshop at exactly 8:30 in the morning! See ya! Karibu!