Hello guys,
Sorry for the very long silence, I had to put my senses together and be sure I still wanted to share some tremendous and exciting stories with you. Well I am back and I hope you will enjoy having me once more.
Since it's a new me talking to you right now, I want you to travel with me from Douala Cameroon to Arusha Tanzania, where I will be articipating on an ecourse by Barza.
Farm Radio International, in collaboration with The Technical Center for Agricultural and Rural Cooperation (CTA), is holding a workshop with Barza (www.barzaradio.com) users in Arusha, Tanzania.
This workshop will be for 1.5 days, with Barza users from West, Central, East and Southern Africa. It will provide participants with an overview of the site and a chance for people to try out different features. The workshop will also focus on preparing an e-discussion on farmer value chains for broadcasters. People will share with others what they find useful about the site and the challenges they face.
While waiting for tomorrow to follow us at #Barza2012 ...........Here is my story

I left Douala on september 24, for Addis Ababa via Ethiopian Airlines. We took off from the Doualla International Airport at 2pm and landed at 8:25 pm local time. A bus collected us to another stop where we were driven to the first terminal.
On arrival at Addis Ababa airport, the hall was so bright, colorful. There was a big restaurant where people could eat while waiting for their flight to be scheduled. The first thing that stroked me was the number of airplanes 'Ehiopian Airlines mainly) that were on ground! I think I counted about 11 or twelve Wow! Ok no comments, I will not compare with Cameroon. The weather was so cold when we arrived couldn't imagine that, thank God I wore a jeans jacket.
I don't know if it's only an impression but it seems all the hostesses were sisters: thin, fair in complexion, same long hair. I did enjoy the food served in the plane. I even drank one Heinenken and thought of Edouard Tamba (http://edouardtamba.com)

My seat was 18 A, couldn't help myself smiling when one of the passengers was searching for his, meanwhile 2 others had the same seat number. The truth is, one of them was sent to the business class and the other in the economy class.
I slept a little during the trip, there was a lady that I kept looking, she had these 15cm high heels. I wonder how come she didn't remove them during the trip.

Anyway, at 10 pm we were waiting to board another flight for Kilimanjaro airport. It is also there that I will collect my luggage and pay for the 50 $ visa entry fees.
By the way it's my dad that dropped me at the Douala International Airport( yeah I know, I am lucky).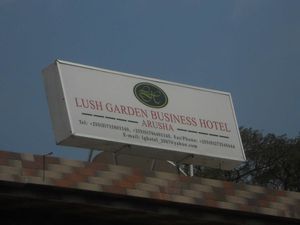 4:40 am the next day:
We have just arrived at the Lush garden business hotel. My room is 106 . After Addis Ababa, we went to Kenya to drop some passengers at Mombassa, we stayed for sooooooo long! Then we made it for Kilimanjaro airport, we landed at around 3:10 am in the morning. Modalities checked and done: immigration and visa. We were welcomed by John who was holding a FRI card. I met Franklin when we were paying for the visa entry fees, together we met Martin and we drove to our hotel which I think took us about an hour.
In the car, I could just cheap in some words, I was really tired. I noticed again that the position of the car wheel is on the right and they drive on the left! All the contrary in Cameroon. Martin, John and Franklin talked as if they had met before. Once at the hotel, I rushed to take a shower but unfortunately couldn't fall asleep immediately. On tv , there were 4 channels but nothing really interesting to cheer me up. When I finally fell asleep I don't know when, I was up at 6:46 am, Oh no!!!! that is Cameroonian time. I left Cameroonian time on my phone . On my wrist watch it was 8:46 am (thanks to my dad who told me to change the time upon arrival in Ethiopia). This time it was the exact time in Arusha.

I took a long shower this morning, did some make up, open my chocolate box that was handed over to me by my good and adorable girl Rita Diba. Wow Belgium chocolate it melts in the mouth. Oh my! I have one BIG problem! I need a socket cause my laptop's charger doesn't fit.


Anyway the nice lady at the reception says she will look for an extension for me. Let me check and see what we have at the restaurant. Seems I am the last person it's about 9:30 in the morning. Taking some milk/tea, fried eggs and potatoes and a slice of bread.
"Karibu" to all for today

!
You answer : "Asante"